WE HAVE FOUND
THE FOLLOWING BLOGS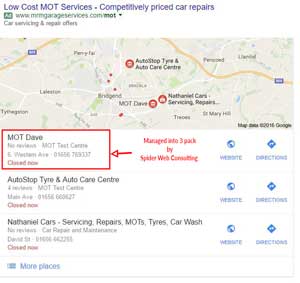 Google Maps has continued to have a massive impact on local searches over the last few years and it looks as if this trend is set to continue.
Being in the Google Maps 3 pack at the top of many search results is the holy grail of online exposure for a local business online and it can generate amazing business results for a client.
And just when you might have thought Google Maps couldn't dominate that space any more than it already has…
…Google just purchased Urban Engines.
This is a site that helps people get around traffic jams and find the fastest most efficient combination of public and private transport?
Google Wants Too Totally Dominate the Local Space
This makes your phone a highly competitive GPS for your car. When I was in the USA recently, we opted out of getting a GPS and just used our phone.
If you're going somewhere and you use a Google search to work out the fastest way to get there Google has you covered.
And it means Google can track people more and has more opportunity to advertise.
That puts Google in even control when it comes to local.
You can expect Google to launch all kinds of innovations in the local space over the coming years.
And so far there's very little real competition in local search.
Ranking On Google Maps Is Essential
For any local business wanting customers from the internet (or not wanting to lose customers on the internet) ranking on Google for local search terms and on Google Maps is vital.
Here are a few tips:
• Google Maps rankings are still based largely on "citations"…the sites where a business's name, physical address and contact details appear.
• Sites like – Yell, Thompson Local……. There are hundreds of these citation type sites, start searching.
• Get the business name, address and phone number listed on a pile of local sites, authority sites and pages related to the industry the business is in. Press releases on high authority trusted sites, (and as it's a little-known strategy it gives you a solid advantage)
• Be sure the contact details are EXACTLY the same in every listing. This is vitally important.
• Get authority site links back to the local business site in a natural Google-safe way (quality online press releases help with this too).
• Encourage people to search for the specific local business, and drive traffic to the site in other ways, as this gives a strong signal to Google that the site is important (and yes Google can track all of this very well).
• Put a lot of targeted, high quality unique content on your local business site related to what you sell and information that's valuable to your prospects and customers.
• Use clearly structured data on the local site, like a page that Google can clearly understand is a menu for a restaurant, clearly labelled opening times, and schema code for the location.
If you have any questions on the above, please contact our Bridgend SEO experts – Steve@SpiderWeb-Consulting.com
Following these basic strategies will help any local business rank on Google Maps and rank for a pile of long tail search terms their prospects and customers are looking for.
And the longer any business follows these strategies the more likely they are to start doing really well in those rankings.
Over the last few months I have had a number of new clients ask specifically about ways to grow their business and automate the process so they are not having to spend every waking hour answering e mails and questions from customers and leads.
My answer is more often than not to say (You need to start automating the first few contacts with customers) by setting up a process that gives the customer great information and help over a number of day's this way you are building trust and helping them reach a decision about potentially buying from you or using your services.
BUT YOU MUST – Automate the Process.
Email marketing tools are a necessary part of any business's working day or at least they should be. But to many it's the ultimate bury your head in the sand subject….
So I am going to help you navigate through the murky waters sharing only the very best email marketing tools with you. I will start with one of my favourites and gradually add others to the list as I get time.
Whether you own a small or large business and want to send just the odd automated message or regular business offers and deals to customers and potential customers building a list and automating the messages is the way to go.
These email marketing tools will you save time while helping to accelerate your business success by connecting you with your customers and website visitors, even while to are not working, although they are a monthly cost, it is in my view money well spent as most of them are only around £10.00 per month with a 30 day Free Trial.
So tell me more…….
Growing your email list should be the #1 goal of your business, but to make it an easier task you need e mail automation…. Aweber is in my view one of the best in the business. I have used Aweber for several years and it is well worth a look for any business owner who is looking to take that first step in starting to build a list of customers and leads and grow their business. If you want to know more just click on the video and learn more about Business Automation.
Try AWeber's Autoresponders for Free
Try AWeber's Autoresponders for Free